Our Custom Made Metal Ceiling Tiles Were Recently Installed In An Aquarium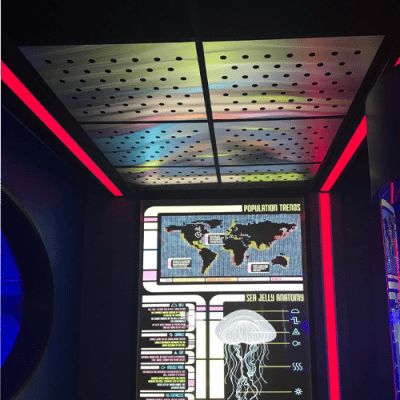 Metal ceiling tiles are aesthetically pleasing and are often used as part of a ceiling grid system as a way to hide pipes and wires that may be running overhead. Recently, an aquarium located in Niagara Falls, NY, placed an order for Unistrut Channel and 16 gauge stainless steel to use in their new Jellyfish Exhibit. The 1,500 square foot exhibit holds 2,000 gallons of water and features 4 different jellyfish species. This is the first time the aquarium will have jellyfish on display since it's opening in 1965 and our Metal Fabrication Services division is proud to have our custom metal ceiling tiles featured in the new exhibit.
What Was Installed In The Exhibit?
The new jellyfish exhibit was constructed using the following Unistrut parts and metal ceiling tiles:
260 pieces of Unistrut 1-1/8″ Light Duty Fiberglass Channel (1000 Series) – Slotted Channel in 20ft Lengths
26 pieces of Unistrut 1-1/8″ Fiberglass Base Brackets (5″ x 5″ x 3″)
12 pieces of 16 Gauge Stainless Steel (24″ x 24″) with 1″ diameter holes punched out
Fun Facts About Jellyfish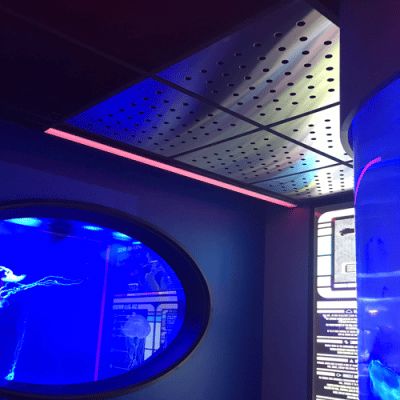 A group of jellyfish is called a "bloom", "swarm" or "smack".
Jellyfish aren't actually fish, despite having the word "fish" in their name. Jellyfish are invertebrates meaning they don't have a backbone.
The average weight of a jellyfish is 4.4 lbs.
The average length of a jellyfish is 10 ft.
The average swimming speed of a jellyfish is 5 mph.
Jellyfish have the fastest digestive system on the planet. They eat tiny pieces of plants, fish, shrimp and crabs and process it super fast in order to keep afloat.
Custom Metal Fabrication For All Of Your Needs
Our workshop is equipped with CNC equipment and high quality tools to ensure accurate dimensions and superb quality on all of our custom steel forms. We offer a wide range of products including loading dock products, industrial pipe guards, and metal ceiling tiles, like the ones mentioned above. Let our team of Metal Fabrication experts help you with your next project.