State of the Art CNC Turret Punch Press
The Metal Fabrication Services (MFS) division of Eberl Iron Works, Inc. is now the proud owner of a state of the art LVD STRIPPIT Parma 1212 CNC Turret Punch Press.
We are happy to be able to offer customers a variety of metal punching services on site, in our Buffalo, NY warehouse, to speed up production times and provide faster order turnaround.
The MFS division of Eberl Iron Works has been manufacturing high quality, custom metal fabrication products in Buffalo, NY since 1923. We offer fast, reliable nationwide shipping of all our metalfab products.
Wide Variety of Punch Press Tooling
The STRIPPIT features quick changes die holders for efficient setup and quicker job completion times. Our punch press die set can accommodate a large array of punched metal shapes and patterns, including:
Round Holes
Square Holes
Rectangular Slotted Holes
Oblong Slotted Holes, and more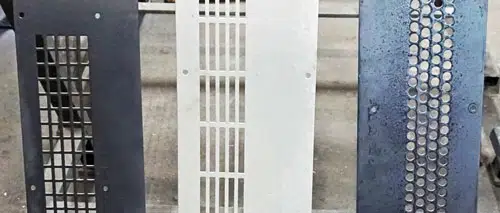 Fast, Reliable, Cost-Efficient CNC Punching
Our punch press offers fast, reliable, cost-efficient CNC punching. Hydraulic ram technology delivers the highest punching rates of any punch press in its class. The ram system, rugged frame and CNC control ensure tight tolerances and consistent punching accuracy.