Custom Punched Perforated Stairpans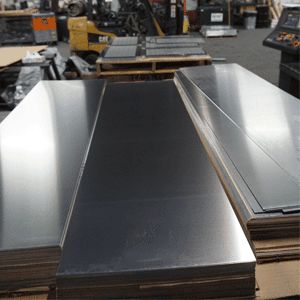 Perforated Stairpans are designed to improve safety, visibility and aesthetics. With custom punched holes, pedestrians using stairwells are able to see potential hazards above and below. They allow extra light to enter the walkway, creating a brighter and safer environment and also allow debris to pass through. They're manufactured to meet your custom specifications and will meet all safety and building code regulations.
Turret Punched Stairpans
Our custom perforated stairpans are manufactured using a turret punch to ensure the highest quality perforations and measurements. Our most recent order featured 80+ stairpans made from 10 gauge sheet metal that measured 60″ long. The material was sheared, punched, bent and skidded in less than 2 weeks. This repeat customer was very pleased with our fast lead time, our clean punches and our accurate bends.
Who We Are and What We Do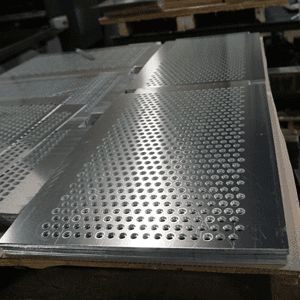 Metal Fabrication Services, a division of Eberl Iron Works, Inc. has been manufacturing stairpans for the industrial stair industry for over twenty-five years. Through effective cost control measures, we now offer the most efficient manufactured and durable stairpans in the industry; offering them in various gauges and sizes to match your custom requirements. Click the button below to learn more.