Downspout Guards That Protect Your Building's Plumbing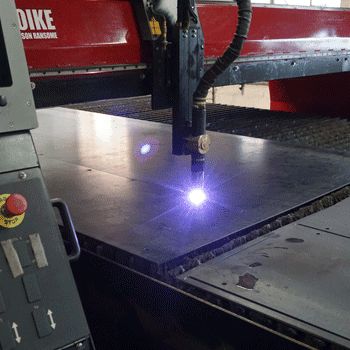 Protecting your building's interior and exterior piping and drainage systems from potential damage can save time and money while also increasing warehouse safety and aesthetics. Whether its protection from vehicles, material handling equipment or resting inventory, our downspout guards, also known as industrial pipe guards, are designed to provide the stability needed to do just that. Manufactured from a variety of materials and made to meet your custom requirements, we use our CNC equipment and quality tooling to ensure accurate guards every time.
Designing a One of a Kind Down Spout Guard
Our team of metal fabrication project managers and designers were recently tasked with designing a custom down spout guard that was larger than the standard downspout guards we usually manufacture. This downspout guard needed to be 10ft in length. Stacking multiple smaller cable guards wasn't an option so a unique design would need to be formulated that met these requirements. Utilizing our state of the art plasma table and press break, we were able to manufacture downspout guards that checked all of our customer's requirement boxes.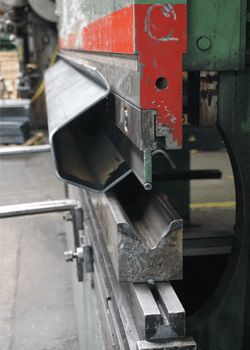 Downspout Guards To Meet Your Needs
Our first step was to design a downspout guard with proper hole spacing along a 10 foot length that would give the finished product the necessary anchor points needed to provide adequate protection after it was installed. We then loaded (4) 72″ x 120″ sheets of 1/4″ thick A36 steel on to our plasma table and cut out the initial templates of the pipe guards. Once cut, the sheets were transferred to our press brake where our machine operators bent the downspout guards to the proper dimensions. The finished guards were then skidded on pallets, labeled and shipped to their final destination. Because of the size requirement, our shearing machine was not needed for this project; reducing the amount of time the material spent on our shop floor.
Who We Are and What We Do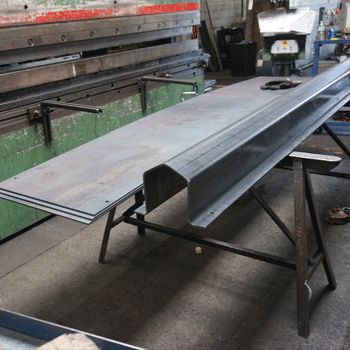 Metal Fabrication Services (MFS), a division of Eberl Iron Works, Inc. has been manufacturing downspout guards, stairpans and other miscellaneous metal products for customers across the country for over twenty-five years. Through effective cost control measures, we supply some of the most efficiently manufactured and durable products in the industry; offering them in various gauges and sizes to match your custom requirements. Click the button below to learn more.