Custom Fabrication
Fabricating Custom Solutions for Your Specialized Project Needs
Our parent company, Eberl Iron Works, was founded in 1923 as a metal fabrication company, and our metal fabrication division has continued to expand and improve upon its capabilities over the last century. We have the ability to create custom parts and pieces, as needed, to meet your project's special requirements. This could be as simple as modifying our standard items to match the specific job site conditions, or designing, engineering, and fabricating a completely new item.
We have the CNC machinery and the highly skilled workforce necessary to bring your custom project to life.
Your Project is in Capable Hands, Whether it Requires:
We're Willing to Go the Extra Mile to Get the Job Done Right
We realize that every project, and every job site, is different. We've designed our standard components and systems to make installation quick and easy, but our ability to customize and tailor these designs is what makes us shine. If you've got a problem, we can help you solve it.
Project Consultation
Get Expert Advice from of Metalfab Specialists
Our estimators have decades of experience designing and fabricating the best custom bent plates, concrete pour stops, concrete forms, industrial pipe covers and corners guards, door jambs, dock plates, metal hoods, and more in the Building & Construction, and Loading Dock & Door industries. Let us put our skills and experience to use for you.
Anything Worth Doing Is Worth Doing Right
We'll walk you through the various standard options we have available and work together to come up with the perfect solution for your project. Our knowledgeable staff can assist you in gathering the correct measurements needed to build an accurate estimate for your project and ensure a smooth, successful installation process.
Find even more helpful resources on our website, such as: Order Forms, Product Drawings, FAQ's, Catalog Downloads, and more.
Work With Us For:
Unparalleled Knowledge & Experience
Proven, Time Tested Designs
Top-Notch Customer Service
Customized Solutions
If you have a special project that requires an outside-the-box solution, we are confident that we can work with you to achieve the results you need. We have the proven expertise to build a solution that works for you.
Takeoff & Design Estimates
Quick and Accurate Estimates Provided on a Variety of Standard Designs
Quick and Accurate Estimates Provided on a Variety of Standard Designs
Whatever your skills level is, no matter how much – or how little – help you may need with your project, our estimators are ready to provide you with the exact level of assistance you need.
Send us your drawings and let us come up with a design and estimate to fit your project. Or, if you already know exactly what product you need and feel comfortable with the accuracy of your measurements, simply fill out the appropriate order form and return it to us for a quick estimate. We are here to provide you with as much guidance as you need.
When You Work With Stair Components & Systems, You Get:
Fast Turnaround on Estimates
Proven Designs
Cost Effective Solutions
Freight Included – No Hidden Fees
Exceptional Customer Service
Our project estimators understand stairs, and they understand the fluidity of project estimation and construction deadlines. Our dedicated staff works tirelessly to provide you with what you need, on your schedule and within your budget.
Integrity is one of our Core Values. We take pride in providing our customers with realistic timelines, whether it's quoting, fabrication, or delivery. We are always honest and transparent about our work capacities, and we deliver what we promise when we promise.
Project Turnaround
Industry Leading Lead Times from Design to Delivery
With almost a century of metal fabrication under our belts, we have honed our design, estimation, manufacturing, packaging, and shipping departments into models for efficiency. Most quotes are completed and returned within 1 business day of receipt.
Honesty and Transparency at All Times
It is standard policy to provide our customers with a current manufacturing window at the time of quote. If that window changes between the time of quoting and placing the order, we will update you with a new window. We have a highly skilled and very dedicated team of machine operators, and our staff is constantly monitoring the amount of work we have scheduled for each machine, in order to provide you the most accurate and up to date fabrication window.
We have built up great relationships with a number of fast, reliable carriers and have multiple pick-ups, daily, leaving for all four corners of the country. Our freight costs are built into your quote, so you won't have to worry about hidden charges.
Time Is Money
Quotes in One Day or Less
Realistic Fabrication Window Provided
Fast, Reliable Carriers
We Work With Your Deadline
If you are working under aggressive time constraints, please let us know what they are when requesting your quote. We will do everything within our power to complete our work within your timeline. If we can't meet your deadline, we will let you know upfront.
Shipping & Delivery
We Pack It Up So You Can Put It Together
Our whole philosophy on packaging and shipping goods is designed around avoiding loss or damage during transit and making receiving and installation easy for our customers. We pride ourselves on our top-notch customer service, and we are always willing to go the extra mile to help you and your project succeed. If there's something we can do to make your assembly and installation process faster and easier for you, just let us know and we will make it happen.
It is standard practice of our shipping department to label your components for ease of assembly and installation.
Where applicable, all components are nested together on sturdy pallets and bound together with heavy-duty strapping for worry-free – and damage-free – transit. If there are boxes of small parts or hardware included in your shipment, we will pack them on the skid and shrink wrap them with the rest of your order to avoid the possibility of them becoming separated or lost during transit.
Packing & Shipping Practices Designed with Our Customers in Mind
Identifying Labels
Sturdy Pallets
Heavy Duty Banding
Small Parts Boxed & Shrink-Wrapped w/ Order
Trustworthy Shipping Partners
We're Here For You If Something Should Go Wrong
Sometimes – no matter how careful we are, or how amazing our shipping partners are – something does go wrong with a shipment. Don't worry. We are here for you. Simply inspect your shipment for any missing items or damage, note it with the carrier, on the Bill of Lading, and contact us. We will work with you and the carrier to find or replace your items and get your project back on track as fast as possible.
Plasma Cutting
The Sparks are Flying!
Eberl Iron Works has added in-house Plasma Cutting services to our Metal Fabrication department's ever-expanding list of offerings.
Our Koike Aronson PlateProX HD 3100 machine was purchased in 2020 and the sparks have been flying ever since! With a 10 foot by 24 foot table and plasma cutting capabilities that extend to 1-3/4″ material thickness, there's almost nothing we can't do.
Machine Capabilities:
Up to 1-3/4″ Material Thickness
Up to 10 Foot Material Width
Up to 24 Foot Material Length
The PlateProX HD utilizes the latest technologies to provide unmatched speed, accuracy, versatility and durability in a CNC cutting system. Designed to satisfy the world's most demanding customer requirements, the PlateProX HD has been engineered to maximize its' performance while costing so little. Steel Service Centers, Heavy Fabricators, Tank Manufacturers, Shipbuilders and General Fabricators are just a few of the PlateProX HD target customers.
Metal Shearing
Meet Our Metal Shear, the Lovely Miss Rita!
The Eberl Iron Works manufacturing warehouse, located in Buffalo, NY since 1923, is home to our Cincinnati 500 Metal Shear, affectionately named, "Rita". Rita can shear half inch thick metal plate that is up to twelve feet in length. Our sheet metal shear is also equipped with a conveyor and auto scrap separator for faster, cleaner metal shearing.
Eberl Iron Works uses CNC equipment to ensure tight material tolerances and a high level of accuracy in your finished product.
Metal Shearing Capabilities:
1/2″ Thick Material up to 12 Feet Long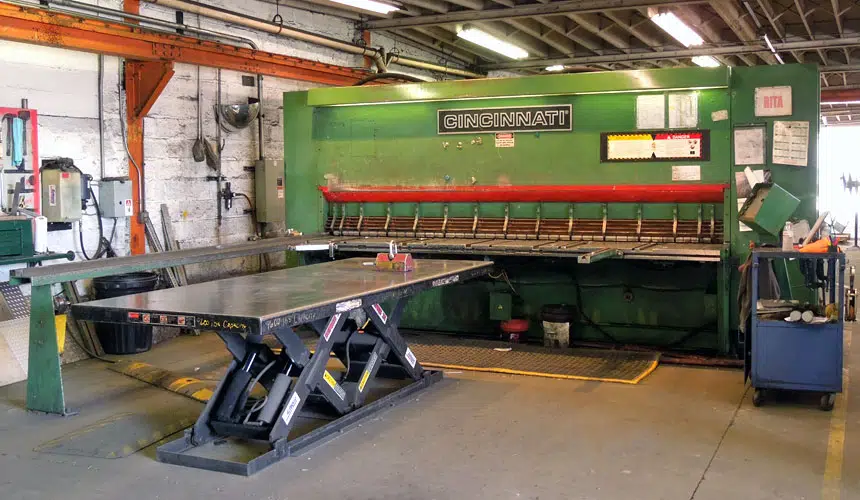 Shearing Metal Since the Great Depression
Eberl Iron Works was fortunate to have set aside enough money to buy their first major machinery – a metal shear and press brake – with cash reserves, in the early 1930's.
These purchases were put to good use during World War II when the Eberl's were called upon to help produce metal bumpers for Jeeps, to aid with the war effort.
Our Metal Fabrication Services division has been shearing metal for our loyal customers for more than nine decades!


Metal Forming
Four Press Brakes In-House
The Eberl Iron Works manufacturing warehouse, located in Buffalo, NY since 1923, is home to four Press Brake machines. Our largest machine is a Cincinnati 400 Ton Mechanical Press Brake which can bend 12 foot lengths of 3/8″ thick material and 6 foot lengths of 1/2″ material.
Bent Plate is one of our specialties – it would have to be after almost 90 years of bending steel! We offer a number of standard shapes to choose from, but we are also very comfortable working with you on your custom designs and projects. We're always happy to take a look at customer drawings and come up with a fast and accurate quote for fabrication of your custom project.
Eberl Iron Works uses CNC equipment to ensure the most accurate bends and tightest material tolerances in your finished product.
Steel Bending Capabilities:
3/8″ Material up to 12 Feet Long
1/2″ Material up to 6 Feet Long
With those purchases Eberl Iron Works was welcomed into the ranks of steel benders. These purchases later led to being called upon to produce bumpers for Jeeps during World War II war efforts.
We're "Steel" Here After Nearly 100 Years!
Always wise investors, Eberl Iron Works used cash reserves to purchase the first major pieces of fabrication equipment – a Press Brake and Metal Shear – for the then fledgling business in the 1930's, during the Great Depression.
Many new pieces of equipment have been purchased since then, and many others retired, but after nearly a century of exemplary customer service, we are "steel" here today!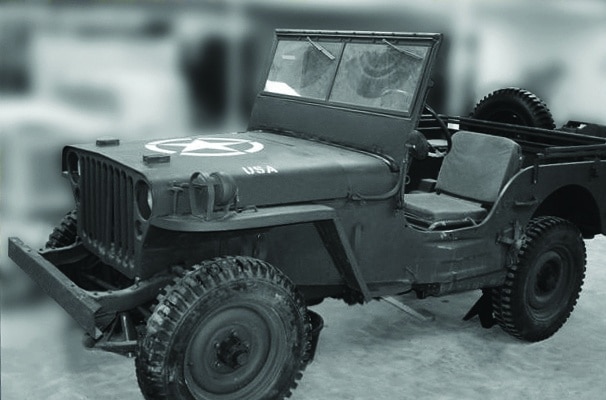 Metal Hole Punching
State of the Art CNC Turret Punch Press
The Metal Fabrication Services (MFS) division of Eberl Iron Works, Inc. is now the proud owner of a state of the art LVD STRIPPIT Parma 1212 CNC Turret Punch Press.
We are happy to be able to offer customers a variety of metal punching services on site, in our Buffalo, NY warehouse, to speed up production times and provide faster order turnaround.
The MFS division of Eberl Iron Works has been manufacturing high quality, custom metal fabrication products in Buffalo, NY since 1923. We offer fast, reliable nationwide shipping of all our metalfab products.
Wide Variety of Punch Press Tooling
The STRIPPIT features quick changes die holders for efficient setup and quicker job completion times. Our punch press die set can accommodate a large array of punched metal shapes and patterns, including:
Round Holes
Square Holes
Rectangular Slotted Holes
Oblong Slotted Holes, and more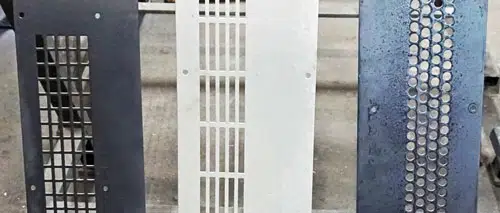 Fast, Reliable, Cost-Efficient CNC Punching
Our punch press offers fast, reliable, cost-efficient CNC punching. Hydraulic ram technology delivers the highest punching rates of any punch press in its class. The ram system, rugged frame and CNC control ensure tight tolerances and consistent punching accuracy.
Metal Band Saw Cutting
A Variety of Metal Products Cut & Deburred
The Metal Fabrication Services (MFS) division of Eberl Iron Works, Inc. is home to several metal band saws, including a Cosen 500 and Hydmech S20P.
Our main saw station is equipped with a 20 foot gravity roller conveyor table support material and to make saw cutting of long lengths of tubing, grating, and channel easier and more accurate.
Our mechanized deburring machine insures that jagged metal edges are smoothed out and made safer for handling.
Materials We Cut:
Metal Safety Grating
Metal Channel
Fiberglass Channel
Square Tube
Round Tube, & more
Offering Top Quality Custom Metal Fabrication Services Since 1923
The MFS division of Eberl Iron Works has been manufacturing high quality, custom metal fabrication products in Buffalo, NY since 1923. We offer fast, reliable nationwide shipping on all our metalfab products.